Tous les cafés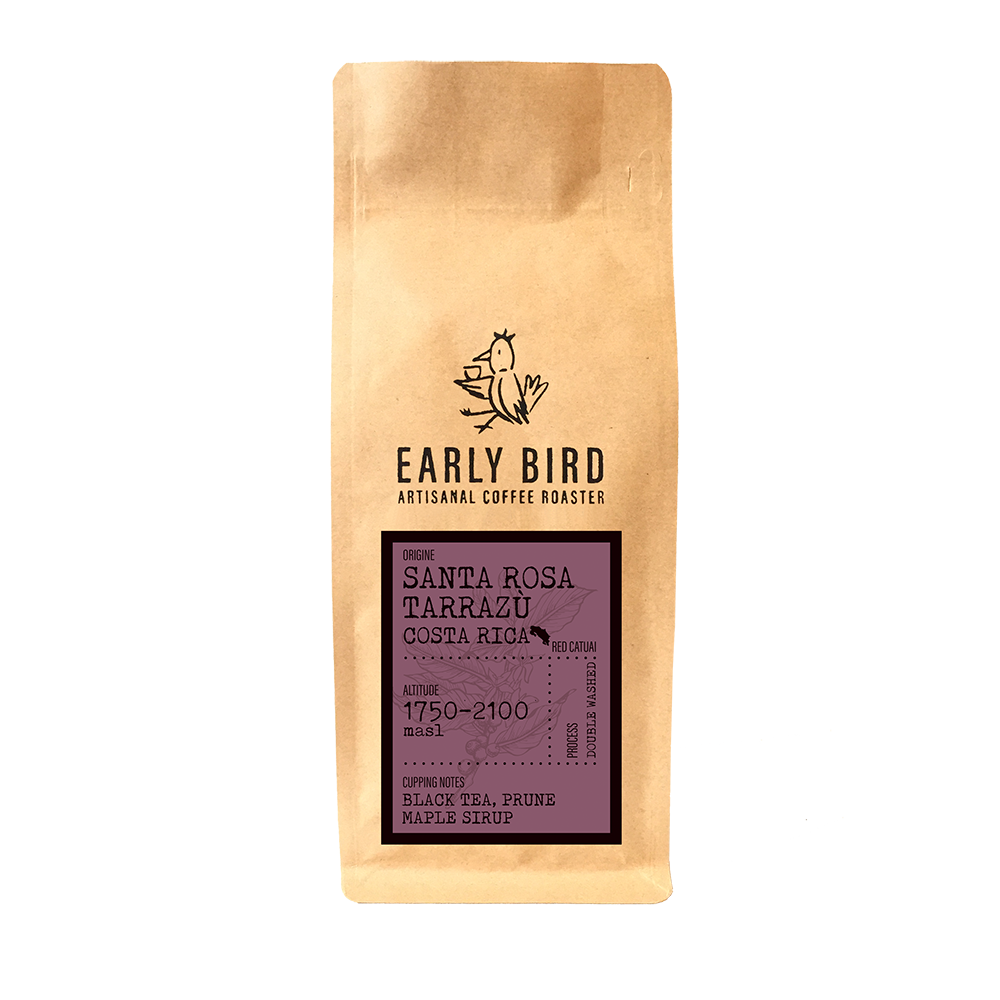 Santa Rosa Tarrazù
Costa Rica
Dark notes of black tea, licorice, and prune.
Region

Santa Rosa de León Cortés, Tarrazú

Farm-Producers

Finca Santa Rosa 1900

Botanical Variety

Arabica

Botanical Species

Catuaí Rojo

Altitude

1,750 - 2,100 masl.

Classification

SHB

Treatment

Double-washed

Manual and selective harvest

November-March
Costa Rica boasts eight growing regions, with the most famous being Tarrazú. The country is seen as a tropical paradise with lush vegetation where exotic birds fly over breathtaking landscapes.
Tarrazú is an ideal place for cultivating Arabica. The high altitudes and sedimentary composition of the soils promote the fine acidity and sweetness for which these plants are known.
Finca Santa Rosa 1900 is managed by the Vargas family, a large family with a long-standing coffee tradition. The company was established in 2009 by Don Efraín Naranjo. He quickly involved his parents, wife, and adult children, who all share his passion for the business. Today, Santa Rosa 1900 consists of a handful of Fincas, all committed to the company's highest quality. The company is named after the town of Santa Rosa, expressing gratitude for the fertile lands on which the farms are located. "1900" denotes the average altitude of the Fincas at 1,900 meters, providing the best growing conditions. The Vargas family emphasizes the traceability of their beans as well as the protection of the environment surrounding their Fincas.
With their high-altitude locations, the Santa Rosa Fincas are blessed with an optimal climate for cultivating both exotic and more popular varieties, with Catuaí Rojo being one of them. This unique microlot was processed using the double washing method. It starts by letting the cherries rest in tanks for 24 hours before being depulped and fully washed. Afterward, they remain submerged in a second tank for another 24 hours. During this stage, the temperature never exceeds 10 to 14 degrees Celsius. Finally, the beans are sun-dried on African beds for 9 days, completing the meticulously monitored process. The result is a unique cup that marries notes of black tea, maple syrup, and prune.
Tarrazù